[Komi's useless Japanese lessons Vol3] Bribery (賄賂)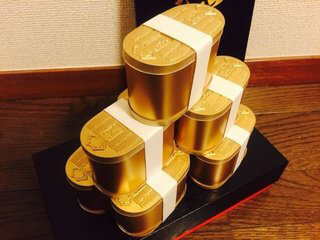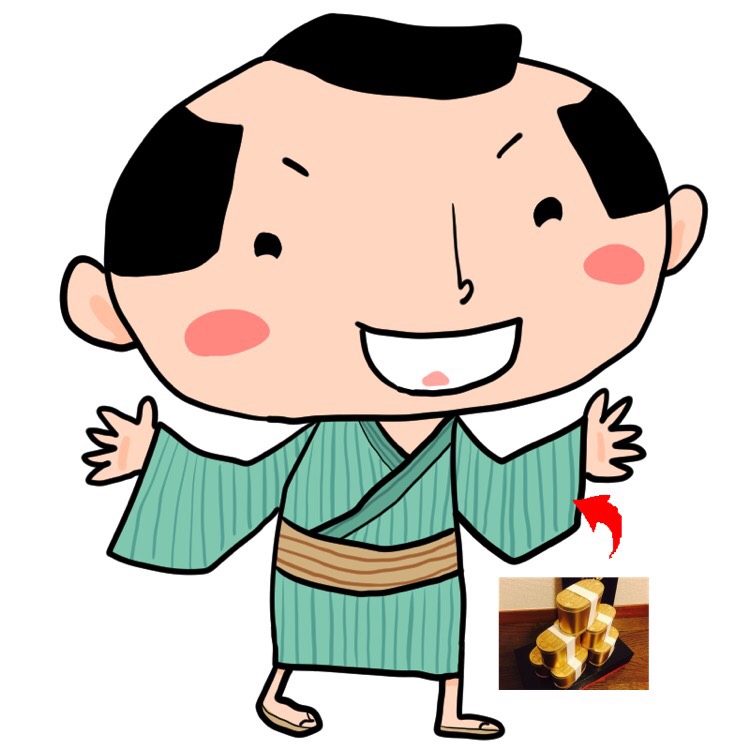 (These pictures are from
1
and
2
.)
I saw a question that a foreign guy said "Why are there so many words in Japanese to describe bribery?", so today I'm gonna write about an interesting word and a famous example.
「なんで日本語には賄賂を表す単語がたくさんあるの?」という外国人の質問を目にしたので、今日は面白い単語と有名な例について書きます。
The word is sode-no-shita (under the sleeves). It means bribery. I think the origin is that old people hid their bribery in their sleeves of kimono (clothes that were popular in old Japan) like the pictures above since the sleeves are wide.
その単語とは「袖の下」。賄賂のことです。由来は上の画像のように、着物(昔の日本で一般的だった服)の袖は広いので、昔の人が袖に賄賂を隠したからでしょう。
What comes to mind for many Japanese people when they hear this word is "odaikan-sama and Echigoya". They are fictional characters: Daiken is an old title like a boss of government officials, and Echigoya is a bad merchant in jidaigeki (plays set in Edo era). Echigoya always gives bribery to the bad daikan, and they always have awful conspiracies. The famous quotes of them are this ones:
多くの日本人が袖の下と聞いて思い浮かべるのは「お代官様と越後屋」です。彼らは時代劇(江戸時代を舞台にした劇)に出てくる架空の人物で、代官は古い役職で役人の長のようなもの、越後屋は悪い商人です。越後屋はいつも代官に賄賂を送り、彼らはいつも悪巧みをしています。彼らの有名なセリフがこれ。
"Echigoya, onushi mo waru yo nou" (You are really a bad guy, Echigoya)
"Ieie, odaikan sama hodo deha..." (No, no. I'm not a match for you)
「越後屋、お主も悪よのう」
「いえいえ、お代官様ほどでは……」
If you say it (especially the first one) out loud in front of Japanese people, they would say "Wow, you know a lot about Japanese culture!". When you try it, I recommend making your face like a bad guy and saying it in dirty voice like the below picture and the record.
これ、特に一つ目のを日本人の前で言えば「日本文化に詳しい!」と言われることでしょう。試すときは下の画像と録音のように、悪人っぽい顔をして悪そうな声で言うのをお勧めします。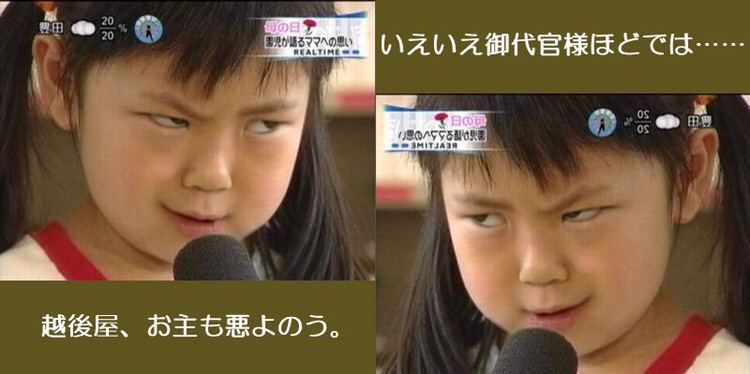 (This pictures is from
here
.)
* I can't take responsibility for what people think about you after you doing this.
※やった後であなたがどういう目で見られるかは責任を持てません。
Enjoy your Japanese life!
楽しい日本語ライフを!
Top