Umeboshi (梅干し)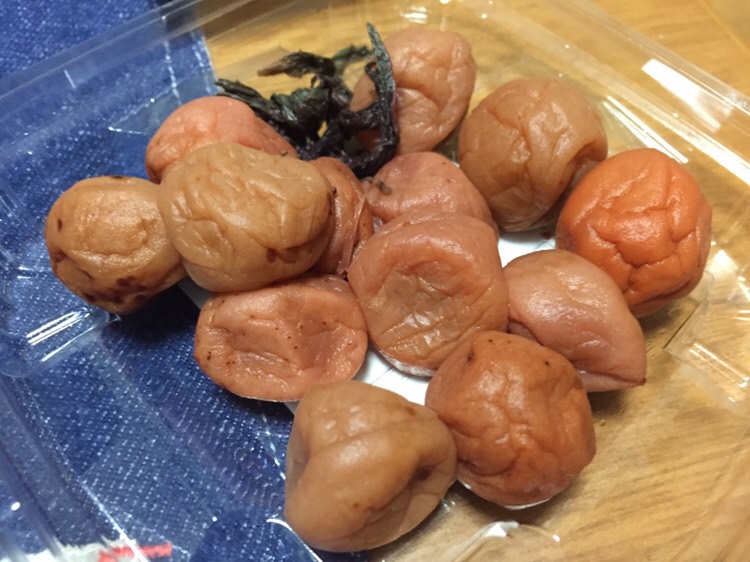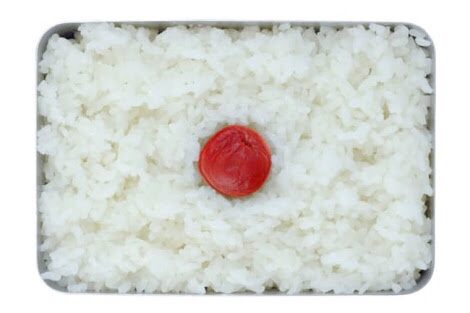 (The right picture is from
here
)
This is umeboshi, it's one of the traditional foods in Japan. It means dried Japanese plums, and it is very sour pickles.
これは日本の伝統的な食べ物の1つ、梅干しです。干した梅という意味で、とても酸っぱい漬け物です。
Japanese people can eat a bowl of rice with only one umeboshi because it has a strong flavor: very sour, salty, and a bit sweet. Since it has antibacterial properties, old Japanese people from long ago ate it often and put it in their boxed lunches especially in onigiri (rice balls). Even now umeboshi is a common filling in onigiri. Other than that, there is a type of boxed lunch that has one umeboshi on the rice, and we call it hinomaru bentou (hinomaru is the name of our national flag, and bentou means a boxed lunch) based on the look.
とても酸っぱく、しょっぱく、そして少しだけ甘い、と味が濃い食べ物なので、日本人はこれたった1つでご飯一杯食べられます。殺菌作用があるので、昔の日本人はよくこれを食べていたし、お弁当、特におにぎりに入れていました。今でも梅干しはおにぎりの具の定番です。他にも、梅干しを1つ載せただけのご飯が入ったお弁当を、その見た目から日の丸弁当と呼びます。
Umeboshi is too sour for children, so when a child is able to eat it, we say things like "Oh, you've become an adult!"
子供にとっては酸っぱすぎるので、子供がこれを食べられるようになると「おお、大人になったね!」なんて言います。
Top